Star Wars - The Exhibition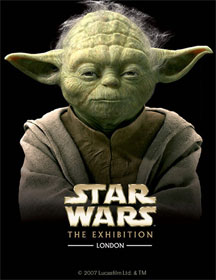 STAR WARS: THE EXHIBITION features an array of items specially selected from the Lucasfilm Archives in Northern California. These objects give visitors a rare glimpse into the making of the epic movies. Among the featured items is the spectacular life-sized Naboo N-1 starfighter, along with several interactive activities that range from Jedi training to a greenscreen simulation which puts you right into the films.

It is the second leg of a touring exhibit that began in Portugal last year and attracted more than 150,000 visitors in the space of two months.

Visual Effects
In 1975, George Lucas founded the visual effects company, Industrial Light & Magic, which was tasked with completing his complex shots.

The effects teams started by building its own motion control camera called the Dykstraflex, which allowed for very precise and repeatable camera movements. This system helped them film several elements, such as miniatures and matte paintings, and later combine them into a single shot. Many of these original ship models are found in the exhibition.

With its many technical and creative innovations, ILM has helped drive the evolution of visual effects. Beginning with a mastery of bluescreen photography, matte painting, and model construction, ILM also pioneered the development of motion control cameras, optical compositing, and digital moviemaking. At the exhibition besides learning some of the techniques used to create the movies, visitors can also experience entering the movies by trying a green screen that puts them side by side with the main characters of Star Wars.

www.starwars-theexhibition.com

Ich gebe zu, der Grund um mal wieder nach London zu fahren, klingt recht fadenscheinig, in Wirklichkeit will ich mich nur fades Essen zu überteuerten Preisen beschweren, aber zu Star Wars - The Exhibition werde ich doch vielleicht schwach werden und außerdem würde ich gerne mal wieder richtig gut indisch Essen gehen.

Also 10 Gründe um die Ausstellung zu besuchen:
Twelve exhibition rooms.
Jedi School.
Special Effects Green Screen Studio and Photo Opportunities.
Official Merchandise Store.
Meet and greet characters.
Over 240 original objects, costumes, props, drawings, vehicles and models.
24-hour guarded security.
Display cases made from 10mm glass weighing in excess of 17 tones.
Each display case uses a low energy LED lighting source with low heat output and less ultraviolet and infra-red rays in order to protect the objects.
Information is translated into two different languages: French and Spanish.
Ich werde auch hingehen und mir anschauen, wie ein ausgewachsener Mann an seinem Geburtstag leuchtende Augen kriegt ;)
[ Link ]
dass ich an so etwas keine Freude mehr haben. Ich werde immer ein Kind bleiben.
[ Link ]
Ist ja auch nicht verkehrt. Sie sollten vielleicht besser Karten reservieren, der Mann sagte gestern, für den Zeitslot ab 10.00 habe er bereits keine mehr gekriegt, wir müssten also von 12.00 bis 18.00 Uhr sehen, dass wir alles schaffen.
[ Link ]
---